When you`re redecorating a room that`s in dire need of a new look, you don`t need to splurge on all-new furniture - a few home accessories can instantly liven it up. Despite often being small, home decorations can pack a mighty punch and quickly change a [blah" room into a space worthy of a magazine cover.
Canosa brings Mother of Pearl to your home. Our products include Wall Decor, Artwork, Mirrors, Vases, etc. all made by mother of pearl.
1. Feature of Mother of Pearl
1), Exquisite pearl texture
MOP is the mother of pearl cultured all kinds of pearls, and the colors are natural and lustrous, elegant and charming.
2), Breath of the Oceans

Because of sea differing climate of the would's sea area, it cultivates natural and colorful mother of pearl. With special textures and shades, the colors of MOP are pearl white, golden, champagne, pink and mysterious black,etc.
3), Green and Natural
Mother of pearl cultures the pearl; It's very strict to the environment of growth waters, so the worldwide pearl farms select the fine-quality waters for breeding.
4), Enviromental protection and health
The vast majority of pearls are cultured. Also we have passed SGS certification, which shows our products are completely harmless to human health. It complys with the modern design concept of enviroment protection and returning to its original nature.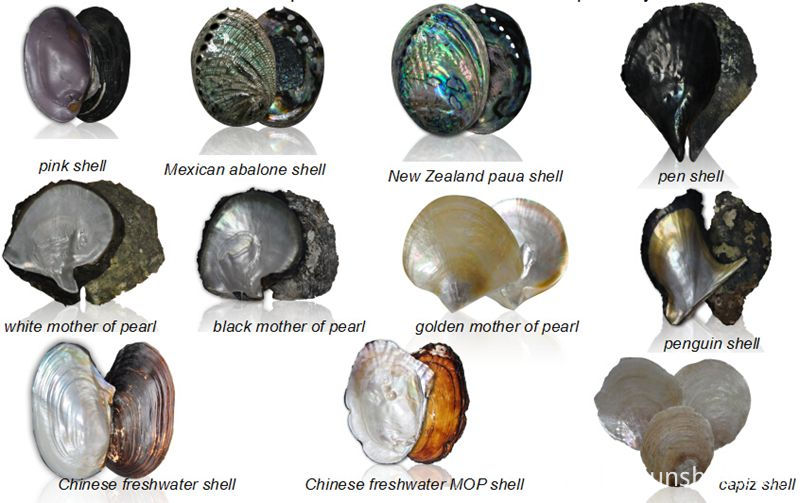 2, Production Process
One finsihed product needs at least 15 processes.
For resin, first cutting the resin panel into the required size, and chamfering the small panel to 45 degree or other angle. Then assemble the panels into a tissue box or other items by resin glues......
For mother of pearl, first selceting and polishing the raw material, then cut it into shell pieces, making then into same thickness and same size. Then sticking on the semi finished product by glues......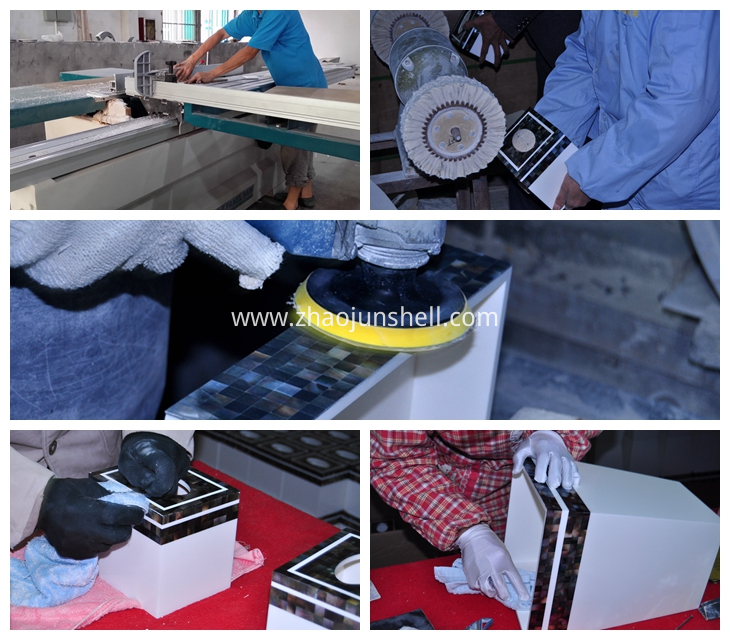 3, Packaging
1) Semi finished products in our warehouse;
2) Products ready for pack;
3) Use high quality copy paper & bubble wrap to cover each products;
4) Put single item into inner box, then into large carton;
5) Packed well and waiting for containers arrive! (carton can be with wooden frame as client's need).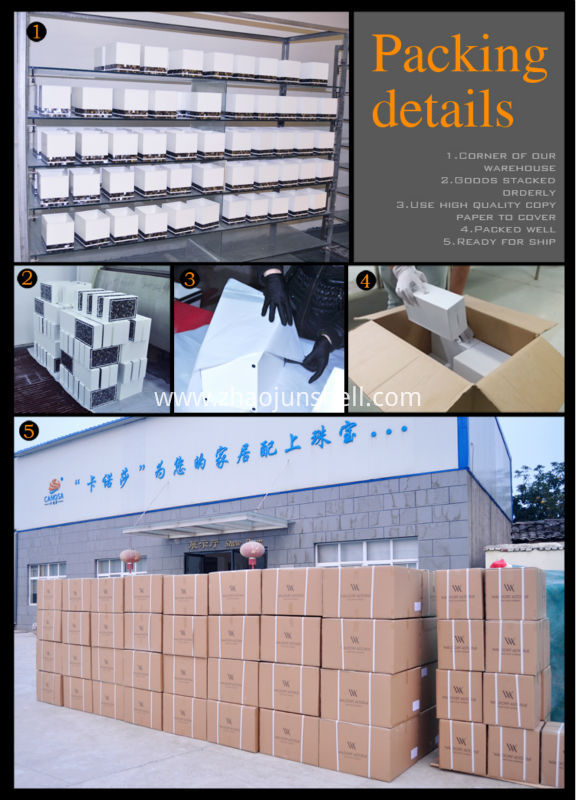 4, FAQ
1), Are you products made from real mother of pearl, or just imitation?
Of course these are made from real and natural mother of pearls, and the colors are matural of shell themselves, which cannot be imitated, for it's pearl texture and lustre.
2), What are your main products?
Our main products are mother of pearl home & hotel supplies, including bathroon set, photo frame, candle holder, mother of pearl boxes,etc.
3), What's your MOQ ?
For bathroom accessory set, MOQ will be 50sets; While for single product, MOQ will be 200pcs or 500pcs.
4), Can you send samples ?
Samples can be sent for evaluation , usually sample fee will be charged and you bear the freight cost. After you place official order to us with certain amount, sample cost can be refundable.
5), What's your lead time for samples and bulk order ?
Usually 5-10 days for samples, and 15-40 days for bulk order, just depending on the order quantity.
6), How can you make sure that the products arrive at the destination safely, without damage ?
Our package way is carton, inside is high quality copy paper and bubble pack for each item, also put into small inner box respectively, which can protect the items from damaging.
Hot keywords: China Liquid Soap Dispenser manufacturers, suppliers, factory, wholesale, high-quality, brands, price, cheap